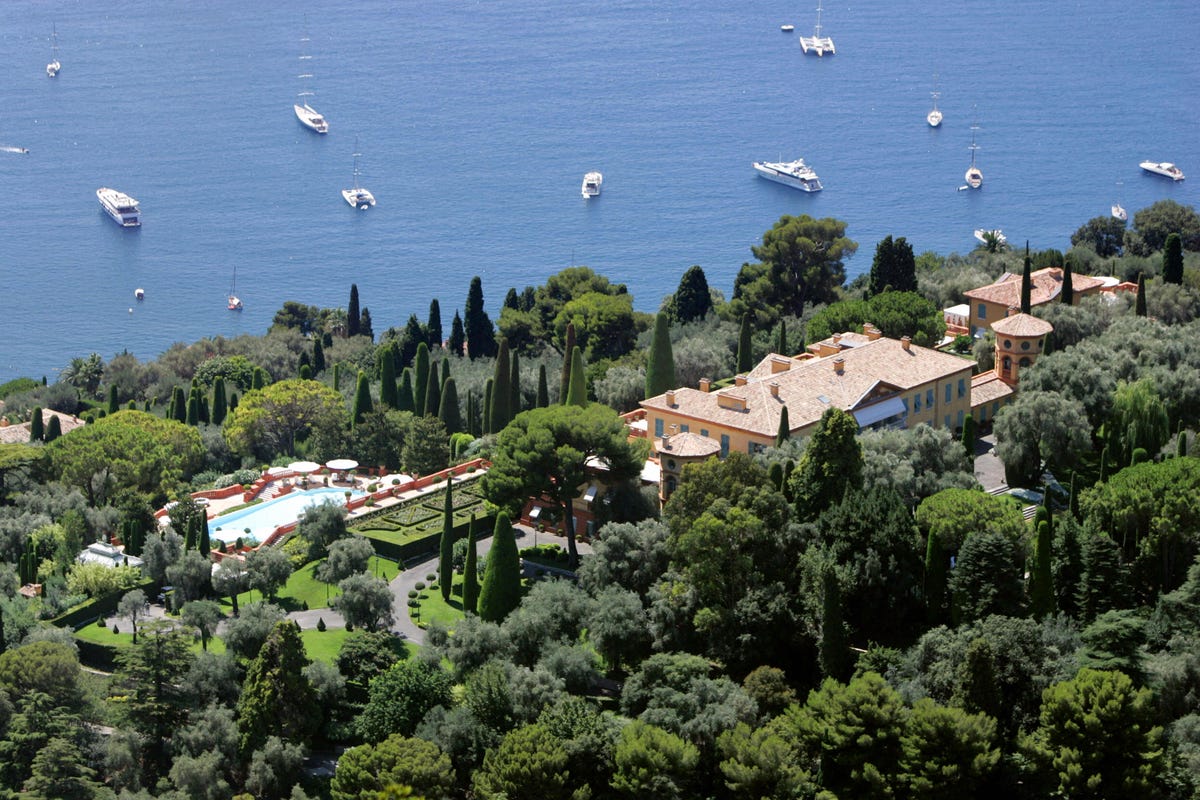 ERIC ESTRADE//Getty Images
Who owns the most expensive house in the world? Where is the most expensive house in the United States? What amenities, from garages that can hold double-digit numbers of cars to regulation-sized basketball courts and multiple swimming pools, are considered standard these days? Discover the answers to these questions and so much more—including a look at some of the properties Amazon founder and former CEO Jeff Bezos picked up during his real estate spree over the last few years—with this look at 25 palatial homes, from a skyscraper in India to hilltop mansions in California.
Although rising interest rates may cool housing prices later this year, the luxury housing market remains hot for now. And as residential real estate prices continue to climb, design details such as walk-in showers that open to the outdoors or back kitchens (also known as butlers' pantries) that hide the mess are becoming more and more commonplace in the luxury sector. Furthermore, so much time spent at home over the last two years has truly changed how we want to live in our homes, with the pandemic accelerating the move away from open floor plans and allowing architects, interior designers, and landscape architects to dream big when it comes to determining what the future of the American house will look like.
You may find inspiration for your garden or pool from"The One," the Bel Air manse that features five swimming pools and is one of the most expensive homes in the United States, or Oprah's rose garden in Montecito, California. After all, there is perhaps no better version of escapist fun than indulging your Lifestyles of the Rich and Famous fantasy. Happy dreaming!
1
Michael Jordan's Illinois Estate
Estimated value: $15 million
The basketball star's Highland Park, Illinois, home, which has been on the market since 2012, recently saw its listing price drop to $14.9 million—roughly half of its original $29 million asking price. The Last Dance, the 2020 docuseries coproduced by ESPN and Netflix about Jordan and his career with the Chicago Bulls, may drum up new interest in the estate, which features more than 50,000 square feet of living space, a regulation-sized basketball gym, a 14-car garage, and seven acres of land.John S. Eckert
2
The Former Textile Museum in Washington, D.C.
Estimated value: $23 million
In October 2016, Jeff Bezos bought the former Textile Museum in Washington, D.C., for $23 million in cash, which was $1 million over asking price, according to the Washington Post. Bezos's property in the Kalorama neighborhood spans two homes, for a combined total of 27,000 square feet. This property housed the Textile Museum for nearly 90 years until it moved to George Washington University in 2013. The two mansions, both of which are listed on the National Register of Historic Places, were previously sold together in 2015 for $19 million.PAUL J. RICHARDS//Getty Images
3
The Penthouse at the Getty Residences in New York City
Estimated value: $59 million
Once the site of a Getty Oil gas station, this corner in Manhattan's Chelsea neighborhood is now home to a luxury condominium building designed by architect Peter Marino. The penthouse, which includes about 10,000 square feet across the top three floors of the building, was purchased by billionaire investor Robert F. Smith for $59 million in 2018.